Activities around Invercargill
With dramatic scenery, an abundance of native wildlife, a plethora of outdoor pursuits and friendly southern hospitality, Southland really is the best of pure, natural New Zealand.
The region is best encountered at a relaxed pace, so take your time to travel the Southern Scenic Route, your unforgettable Southern Journey, travelling from Dunedin through the Catlins and into Invercargill, onto Te Anau and now extending right through to Queenstown; be sure to pack your walking shoes and your camera.
Invercargill City entertains visitors with elegant parks and heritage buildings. Be sure to visit the Tuatara House in the Southland Museum and Gallery which houses a wide range of exhibits and activities. Small but charming galleries and museums spread around Southland's rural heartland and include "Te Hikoi – Southern Journey" Heritage Museum at Riverton, along the Southern Scenic Route and Gore Arts & Heritage Precinct.
There's always something happening in the city, with events and festivals taking place throughout the year, including the famous Bluff Oyster Festival. Ask us about local restaurants and cafés, we have a great variety, some at special locations in the region and worth seeking out, among them the Beachhouse Restuarant and Café in Riverton, The Pavillion in Colac Bay, The Cabbage Tree at Otatara Oreti Beach, Ziffs Café & Bar and many others for you to discover and enjoy.
Southland offers a number of Heritage Trails, all have brochures/maps that can be picked up from our reception. These trails include:
Invercargill Heritage Trail
Invercargill offers an interesting tour of heritage sites. This half-day tour is best undertaken by vehicle, with stops for walking in gardens, bush and the Invercargill City centre.
Catlins Coastal Heritage Trail
The trail provides a rewarding detour off the Southern Scenic Route, covering approximately 70km of road.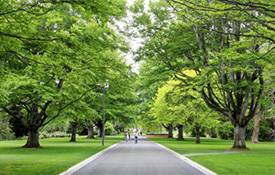 Queens Park Gardens and Aviary
Several hours need to be put aside to explore Queens Park, the 81ha jewel in the centre of Invercargill which is recognised as one of the most important parks in New Zealand. The park has plenty to offer sportspeople and those keen on keeping fit. The 4km fitness trail which winds its way around the park, will test the energetic and encourage others to have some fun. Twenty exercise stations are signposted with directions for appropriate use. Many of the fine statues and features of the park including the Feldwick Gates, the Thomson statue in the playground, and the Band Rotunda were made possible by generous bequests.
Short Walks in the Invercargill Area
Invercargill City Council has about 150 parks and reserves on over 3000 hectares of land, offering venues and facilities for a wide range of sporting and recreational activities.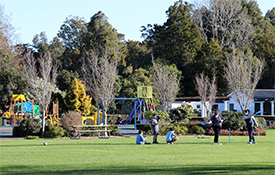 Anderson Park Gardens
The gracious and elegant Anderson Park is found on the outskirts of Invercargill and is testament to the generous spirit of one of Invercargill's early prominent businessmen. A well-defined walking track leads the visitor through the native bush, which covers most of the park and is typical of what covered much of the Southland plains before the settlers arrived. Walkers on the track can spot kahikatea, rimu, thin-barked totara, matai and miro and the principal canopy tree, the pokaka.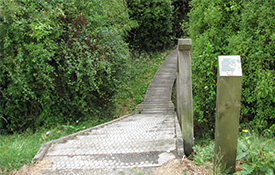 Thomsons Bush
Thomsons Bush is one of the few remnants of the kahikatea-dominated swamp forest that was characteristic of central southern Southland. It is also an important recreational resource (picnicking, walking, running) and as an educational classroom which provides valued habitats for native bush birds and insects.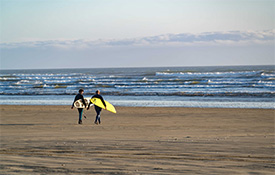 Ōreti Beach
Ōreti Beach is a coastal playground just minutes from Invercargill's city centre. The beach is a wonderland for families to adrenaline junkies and everybody in-between, with plenty of opportunities for motorbiking, 4-wheel driving, wind-powered vehicles, horse riding, dog walking, kayaking, surfing, swimming and paddling, sand castle building, shell collecting etc.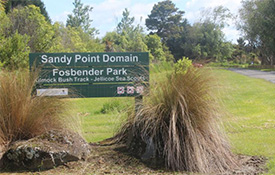 Sandy Point Domain
Sandy Point Domain offers important environmental and recreational resources, providing opportunities for picnicking, play, walking, biking, running and as an educational classroom.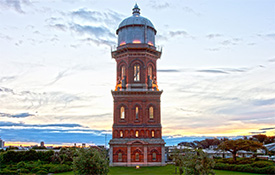 Heritage Trail
This trail offers visitors an interesting tour of heritage sites and diverse open spaces. The half-day tour is best undertaken by vehicle, with stops for walking in gardens, bush and the Invercargill city centre. It can start at any of the 18 sites of interest.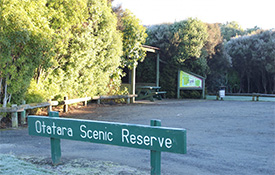 Otatara Scenic Reserve
A loop track through podocarp forest starts and finishes at the picnic shelter and car park off Dunns Road. The reserve contains a mosaic of forest communities, from manuka shrubland to mature mixed podocarp forest. Listen for the song of tui and piwakawaka (fantail) amongst the canopy of totara, matai, lemonwood, pokaka and occasional rimu. Access is also available from Awarua Road.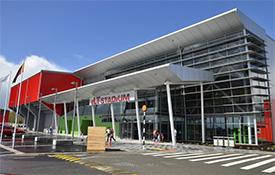 ILT Stadium Southland
ILT Stadium Southland is an impressive, multi-purpose venue, capable of hosting a wide range of national and international events and activities. From sporting and recreational events, to conferences, corporate meetings and trade shows, and even exhibitions, craft markets, and large scale concerts. Incorporating the world-class SIT Zero Fees Velodrome, it is one of the largest and most versatile multi-purpose venues in New Zealand and the jewel in Southland's sporting crown.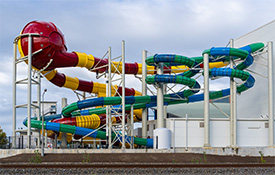 Splash Palace
Drive up, jump out, dive in! The Southland Aquatic Centre – Splash Palace – is one of the top public pool facilities in New Zealand. The indoor aquatic centre is within walking distance of the central business district and close to a large selection of motels and parks. The facility includes a 50m x 8 lane sports pool with a bulkhead, a leisure pool with waves and sprays, a tots' pool and a learners' pool. There is also a water slide, spa pool, sauna and Liquid Café – all indoors and with free off-street car parking.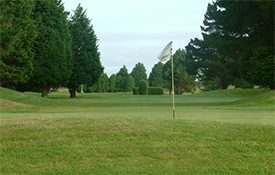 Invercargill Golf Club
Established in the early 1900s, Invercargill Golf Club is one of New Zealand's best golf courses. Undulating terrain, tree-lined fairways and well-bunkered greens are features of our championship course.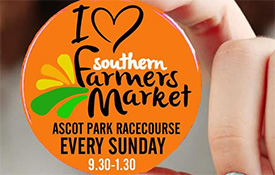 Southern Farmers' Market
The Southern Farmers' Market aims to provide both the local community and visitors to Southland with access to the best local products and seasonal produce. Locally grown fresh produce, artisan products and an international food court. Located at Ascot Park Racecourse, Racecourse Road, Invercargill, every Sunday 9.30am to 1.30pm.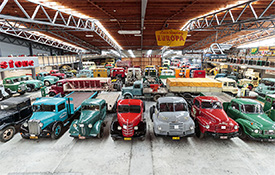 Bill Richardson Transport World
With more than 300 vintage vehicles, plenty of family fun, and ever-popular Invercargill café The Grille to discover, there is something for everyone at Bill Richardson Transport World. Boasting a collection including Henry Ford letter cars, 1930s V8s, Volkswagen Kombis, and vintage trucks of all makes and models including a showstopping 1940 Dodge Airflow Texaco tanker, Bill Richardson Transport World is a petrolhead's heaven. With engaging children's zones, a movie theatre, wearable arts and more, here you can expect the unexpected.